Changing your first name in Ontario
One of the best decisions I made was to change my name. If you are thinking of changing your name for whatever reason, do it. It helped me reaffirm my identity of who I was, and now that it is legal I felt more complete. No more people calling me by a name I did not like or prefer, now I can happily have all my documents say the name I wanted. There was a lot of things to do during the process and I thought I share it with other people who may be going through the same thing.
Step 1: Applying to Change Your Name
First, to change your first name in Ontario you must fill out an application:
Name Change Form (For 16 and older)
Before you apply
You can change your name as an adult if you:
are 16 years of age or older
have lived in Ontario for the past 12 months
Name Change form (16 and under): 
Child name change Form: http://www.forms.ssb.gov.on.ca/mbs/ssb/forms/ssbforms.nsf/FormDetail?OpenForm&ACT=RDR&TAB=PROFILE&SRCH=1&ENV=WWE&TIT=name+change&NO=007-11156E
16 or 17 years old you will need consent from your parent(s), guardian(s) or anyone who has legal custody of you before you can change your name (you must also complete Part 3 of the application)
married or have signed a Joint Declaration of Conjugal Relationship document, you must give your partner/spouse notice that you're changing your name (you must also complete Part 2 of the application
Since I applied for the adult one I will focus on that one.
Aside from completing the form, you will need to scan your birth certificate (To show your original name and you are who you say you are). This is only for those who are born in Canada.
If you were born outside of Canada you have additional documents to provide besides your birth certificate.
– photocopy of original birthday certificate or photocopy of certified copy of birth registration from the country of birth and
– photocopy of Canadian Citizenship Card/Certificate (both sides) or photocopy of Canadian Record of Immigrant Landing or photocopy of the Permanent resident card (both sides) and 
– photocopy of passport used to enter Canada (if still held by the applicant)
It will also be a hassle if your birth certificate is not in English. Then you would need to get a certified translator.
To get anything certified you will need a notary, I used:
http://toronto-notary-public.com/
Or you can find more here: http://www.torontonotary.com/
Step 2: You got your Certificate!
After a long wait (for me it was two months) you will receive your name change certificate in the mail. It will look something like this: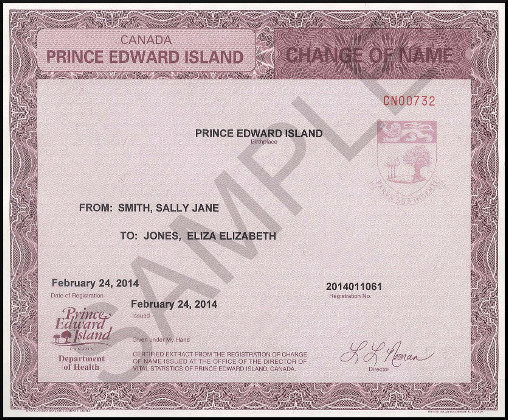 I suggest you scan it, and you carry it around with you when you are changing your name for various documents and in case your old name is in still in use. Now, you will need to change the name on a lot of important documents. Here is a list (Not exhaustive):
Driver License
Canadian Citizenship
School
OSAP
Banks
SIN
Passport
Health Card
The question is now, what order should I do them in?
This is the order I suggest you do it.
Driver's License
SIN
School
OSAP
Bank/s
Health Card
Passport
Canadian Citizenship
The First 5 can be done with just the name certificate and you don't need any secondary supporting document. From 6 to 8 they require a secondary document showing your new legal name. The one I had trouble with was changing my VISA card name, when I was at my bank they told me to call VISA to change my name, and when I called VISA they told me to go to my bank. So, I will update when I have done this.
Step 3: Other tips and words advice
Notify others that you have changed your name, friends, family and your workplace. Remember to change your name too on Social Media Platforms.
Get a credit report to check for anything strange and in general, it is good practice
I would love to hear your stories regarding the process or the reasons why you changed your name.
Photo credits: Pexels.com & Featured image by: https://flash-bros.com/